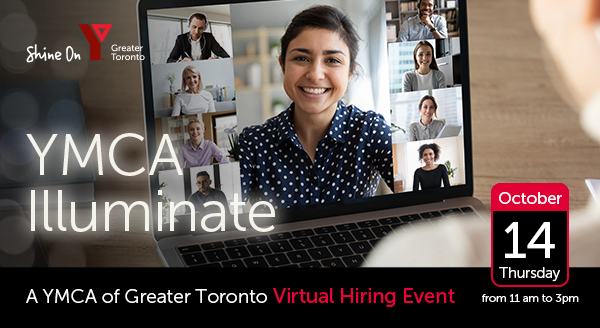 We are excited to announce the YMCA of Greater Toronto is hosting a virtual hiring event on Thursday, October 14 from 11 am to 3 pm.
We named our series of virtual events YMCA Illuminate because we hope it will shine a light on new opportunities for you and highlight your work experience to potential employers.
We are confident this FREE virtual event will provide you with ways to make meaningful connections and meet well-known and reputable employers like: Farm Boy, Lululemon, CIBC, The Brick, Burger King, ParaMed Home Health Care, YMCA Child Care, Crystal Claire, and Amazon.
The YMCA has a long history of working with the employers participating in YMCA Illuminate. We know they are looking for people just like you to fill positions.
Don't miss this event to help you land your next job!