This blog was prepared by YMCA Newcomer Information Centre Information and Referral Specialist, Egle Madhok.
Prepare yourself, my friends! 80% off everything, special deals only today, Black Friday sales – these ads will try to charm and seduce you everywhere you go as we are slowly approaching the 26th of November, the first day of the traditional Christmas shopping season, better known as "Black Friday".
But we still have some time to prepare and save ourselves (our budgets and wallets, so to speak)! Just before Black Friday sales begin, Canada celebrates November of every year as Canada's Financial Literacy Month.
To celebrate Financial Literacy Month, YMCA Newcomer Information Centre is opening their member's only Money Management as a Newcomer webinar, on Nov 25th, 11 AM, to the public, and you are invited! The webinar is geared towards newcomers and gives basic information about the Canadian Financial System, products & services, banking products, and Government financial support programs that are available.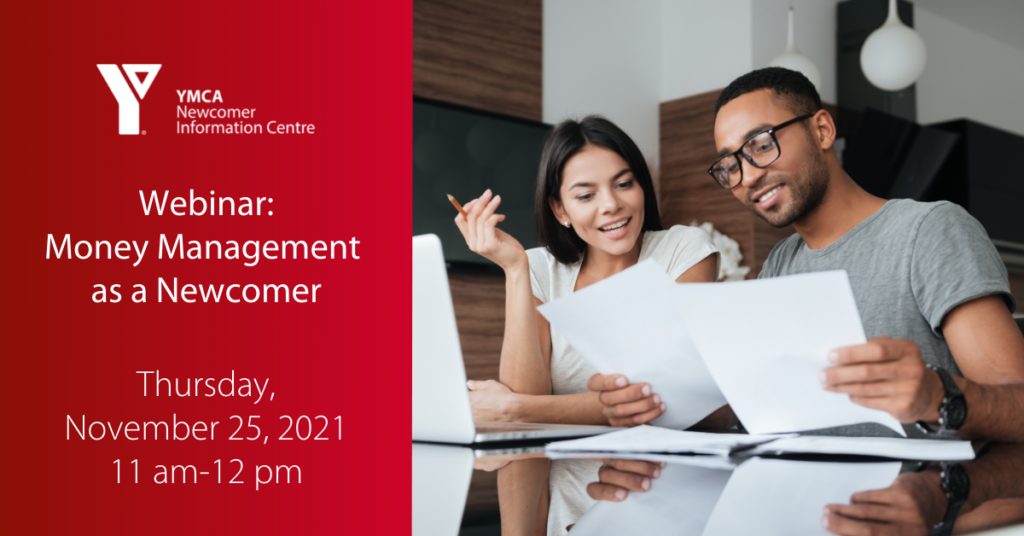 So, what is financial literacy and how do I know if I need more of that? Put it simply, financial literacy would mean understanding how money is made, spent and saved, and developing the skills that help make wise decisions with money. In other words, if you constantly feel that:
It is hard to pay your bills
Postpone saving to the moment when you earn 10 times more
Have no idea what RRSP, TFSA or RESP are
Have debt which keeps you awake at night
Believe investing is the hobby for the rich
Have little confidence in this new digital world
Then you are definitely not alone. Also, this means it is the best time to make use of educational material and events about personal finances organized and offered by the Financial Consumer Agency of Canada (FCAC).
During Financial Literacy Month, the FCAC works with many different organizations to help all Canadians learn more about financial literacy. Throughout the month of November, organizations from across the country are encouraged to have events and information sessions that would help the people living in Canada, have a better understanding of finances and:
Manage money and debt
Save and/ or invest
Understand financial rights and responsibilities
It is worth emphasizing, we are still facing very challenging times due to the COVID-19 pandemic on all levels, especially economic. So this year's Financial Literacy Month will focus on financial resilience in challenging times and a digital economy. This basically means, we can learn a lot about how to build and grow financial budgets and good money habits so we can go easily through difficult times like these. Also, how to use financial technology and digital product offerings.
The best part of this is, that most of the events are free and offered online so you can squeeze in any information session into your busy life simply with a click on a zoom link provided. The topics range from "How Women Can Save More Money", "Protect Yourself from Scams", "75 Ways to Save on Household Expenses" to "Borrowing 101: Financing Basics", and many more. You can pick an event by date, organization name, topic, etc. Click here to view the events.
To sum up, it is hard not to agree with the Financial Consumer Agency of Canada: "Anyone can be financially vulnerable, regardless of income, background or education. Understand your finances to confidently face challenging times and an increasingly digital world."